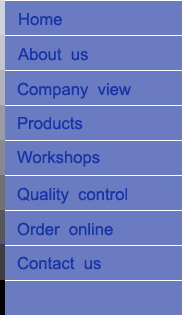 Jiangyin Qingsong Textile Co., Ltd is situated in Jiangyin Hi-tech Industry Park of Jiangsu
Province, a charismatic city of Chinese economy,and is adjacent to Shanghai-Nanjing Freeway and Highway along Yangtze River, which has convenient traffic. It is a production-type and trade- type enterprise owning independent import & export authority, and the main products are all kinds of yarn-dyed fabric.
The company has been founded in 1996, its technology
strength is strong and management advanced. The company owns a set of complete production process equipments from sizing, warping and weaving to finishing. In addition, the enterprise has a high-grade package dyeing production line, and the capacity of dye vat ranges from 1 KG, 10 KG, 300KG, 500 KG and 1000 KG to 2500 KG; 2 home-made large sizing machine, which is matched with 8 few-axis warping machines and suitable for high-count and high-

density blended and pure-cotton products; 2 sizing machine, which are suitable for enlarged sample of product and sizing of small order; 8 home-made front-channel high-speed silk and cotton warping machines, which are suitable for warping of pure chemical fiber and pure cotton thread products without sizing; more than 160 rapier weaving machines, the suitable products range from thick-type to thin-type as well as from pure chemical fiber to blended, pure cotton and other kinds of color-woven cloth.
The company produces 8-million meters, all its products are sold abroad, most of which are

exported to European & American market, especially suit-dress fabric, and the main varieties include: 1) color-woven elastic cloth series: cotton-nylon elastic cloth, polyester-cotton elastic cloth, pure-cotton elastic cloth and polyester-nylon elastic cloth; 2) non elastic series: color-woven voile, high count pure-cotton poplin and so on.
The company now has more than 300 employees, among which there are more than 20 production

technologists who have strong ability of product analysis, independent development and design; and

more than 20 managers who construct an integral management system including sale, production, technology, on-site, merchandiser work, quality and after service.

The company strictly carries out product quality management and establishes a product testing center, which includes yarn appearance quality test, yarn strength test, fabric strength and spring reversion force
test, fabric dye fastness test, fabric shrinkage test, fabric pH value test and etc. we do our best to test and control strictly from raw material yarn and auxiliary materials to semi-products, grey fabric and every link. We strive to improve perfect quality for customers from strict requirements of every link.

Based on the operation management concept of "being honest strictly, unity and collaboration,

meeting difficulty amidst high growth, encouraging innovation, harmonious development", the company creates splendid perfect quality and pursues colorful harmonious living for human kind. Welcome your joining and cooperation sincerely!